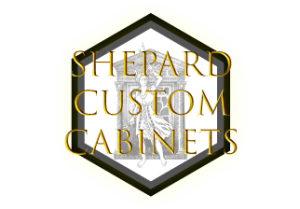 Shepard Custom Cabinets in Anaheim
Bespoke Custom Cabinets and Furniture in Anaheim California
Great design is the cornerstone of elegant and functional custom cabinets. We have years of experience in designing, crafting, installing, and maintaining custom cabinets in Anaheim. We've provided custom cabinets to many upscale commercial and residential properties in Anaheim, and the greater Orange County area. All of our custom cabinets are built right here in Anaheim, and we likewise provide bespoke furniture like bookcases, bathroom vanities, and closet shelving. Our goal is to bring to life our client's vision, and make stylish and space saving cabinets.

Cabinets are large and a prominent part of your home. This is why they are an important part of any remodeling project. Remodeling a property can be a major undertaking. It is important to ensure that your cabinets fit your overall vision. What sets our custom cabinets apart from others in Anaheim, is them being fully customized and locally made. Whether it be open frame doors, partial overlay doors, or hardwood counter tops we build everything with high quality wood and industry leading cabinet hardware. Every piece we make reflects our attention to detail.

Reach out today and we can start designing the custom cabinets of your dreams. Get started today with one of our custom cabinetry craftsmen to begin your journey to a brand new living space.

Hand Made Custom Cabinets in Anaheim
Great design is the foundation for space-saving and elegant custom cabinetry. From kitchen cabinets to custom bookcases closets to media/entertainment centres, floating shelves, and custom bookcases closets to kitchen cabinets. Many of our clients love creating a matching theme for the furniture throughout their home, reach out to one of our carpentry specialists to get the planning process started. Our craftsmen have years' of experience and can help you make your dream home a reality. How our process works

A. Outlining and Initial Estimate Phase

The first step is speaking to an experienced contractor at Shepard Custom Cabinets about what you want from your custom cabinetry. Sending us your room dimensions, either via drawings or architectural blueprints, is a great place to begin. After we learn the extent of work required we can provide you the first cost estimate. This will begin the planning phase, and we can assist you with making the final decisions on what you want.

B. Design Details & Consultation

After we have done our initial due diligence, and provided an estimate to you for the cost, we will start the design and consultation phase. We will communicate with you via email and phone, and we will need to visit the site in order to take final measurements. This is the stage where we finalize the design plans, create an estimated time of completion, and create a comprehensive list of the necessary supplies. At the end of this phase we will know the cost of the project.

C. Exact Drawings and Deposit Payment

This step will allow us to create a payment schedule and provide you with ample notice for any future payments. The payment schedule corresponds to the next phases of the project, including final plans, cabinet fabrication, as well as the final building.

Once the planning phase is done your project will be placed into our schedule as soon as the down payment is paid. At this point we will have a set of drawings that will contain the exact measurements and required materials. One of the main reasons we have opted for these processes is due to the challenges that arise from changes once the fabrication starts. Once your give us the word, we being to fabricate your cabinets.

D. Building the Cabinets and Onsite Installation

This is where all the pieces come together. Your cabinets will be built and crafted at our Anaheim location. After the fabrication phase is complete, we will transport everything onto your property for final installation. The last deposit is paid when the whole project is done, which typically takes between 4 to 8 weeks. Because custom cabinets are made to order, the turnaround time on your project will depend on various factors such as the style of cabinets, how many pieces, and the labor time for each unique piece.

Different styles of cabinet doors
It is crucial to choose the right cabinet door as it is the most prominent part of your cabinet. There are two types of cabinet doors that can affect the overall appearance of your cabinet: the style and how it is attached to the frame. Each will have a large impact on the character of your cabinet.

Cabinet Door Attachments
A full-overlay cabinet door completely covers the front face of the cabinet, and consequently provides more storage space. Because the frame of the cabinet is one hundred percent covered, this one continuous low-profile surface between the cabinets which is extremely popular today.

Cabinets with inset doors have the door set into the frame, sitting fully flush when closed. At times you will see the hinges attached to the outside, and this requires precise work during the fabrication.

Partial overlay cabinets expose more of the cabinet frame with approximately 1″ to 2″.

The Differences in Cabinet Door Styles
The recessed panel door gives the cabinet a sleek, streamlined look. This design is popular in contemporary cabinets and offers many design options.

Frameless glass front cabinets are made with one glass pane and no dividing mullions.

Mullion frame doors have horizontal and vertical bars that break down the cabinet's face into sections. The panes or sections have glass inserts so you can see the interior of the cabinet.

Cabinets with raised panel doors feature a central panel that is elevated and surrounded by a recessed border. Raised panel doors are very popular and can be found on all types of cabinets, from classic to modern.

The slab cabinet door or flat-panel door is simply one slab of lumber. It is completely flat.

Handcrafted Bath Cabinets and Custom Vanities
A well-designed bathroom can make a big difference in your quality of living. You can also add custom bath cabinets to enhance the look and increase the storage space. When you are thinking about the design of your custom cabinets and vanities, it is important to make a list with all your storage requirements. Do you need the space for makeup application built into your vanity? Are you a hoarder of bathroom items and would you like to have as much storage as possible? Are you looking for cabinet space to store towels? After you have identified your needs, an expert cabinet maker at Shepard Custom Cabinets will help you design the perfect design.

You can use a custom-made vanity to fully use your space, renovate your bathroom, and find a place for all your stuff! You can make your bathroom more functional and beautiful by creating storage solutions that are both creative and functional. You will feel calm and relaxed after a hectic day.

Custom Media Centers Handcrafted
We also build custom cabinets. One of the most popular pieces of furniture that we build at Shepard Custom Cabinets are custom media centers, also known as entertainment centers. A entertainment center houses your television, sound systems and video game consoles. Many of our customers find that their television is an essential piece of your daily life. This is why they are able to get a custom-built entertainment centre.

Often ready to assemble (RTA) media centers are made from cheaper materials, such as particle board, and don't stand the test of time. Shepard Custom Cabinets only uses the highest quality hard wood for your custom media center. This will make it look great today and last many years. An endless tangle wire mess in the middle of your living room can distract from your surroundings and make it difficult to see. We can help you design cabinets that will accommodate your wires and conceal clutter.

Stains and finishes
You can add character to your cabinet doors by choosing a finish. To give the cabinet a desired characteristic, such as enhanced protection or alterations to its color or texture, a finish is applied to it.

Waterborne finishes can be used to protect against scratches and damage. They are also non-toxic to the environment. Waterborne finishes can be fast drying and can mimic the appearance of many other stains. Waterborne finishes are great if you like the look of grain patterns on your wood and want to change its color.

Glaze finishes can add additional texture and color to the surface of your cabinets, and can be brushed right on top of cabinets that have been painted or stained. Glazing cabinets can give them a shiny look. It will also protect against moisture and damage. You can paint your cabinets to hide the wood grain, and you can change the color of your cabinets as much as you like. One popular option is to paint your cabinets a flat white color. There are a ton of options out there, and the expert craftsmen at Shepard Custom Cabinets are here to help, so give us a call today.
Timezone: PDT
Monday
08:00 AM - 06:00 PM
Tuesday
08:00 AM - 06:00 PM
Wednesday
08:00 AM - 06:00 PM
Thursday
08:00 AM - 06:00 PM
Friday
08:00 AM - 06:00 PM
Saturday
10:00 AM - 04:00 PM
SundayClosed
Shepard Custom Cabinets in Anaheim
304 S RosebayAnaheim California 92804United States