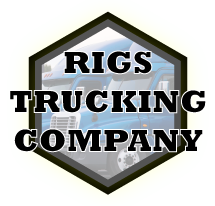 Rigs Trucking Company in Fort Worth
Reliable Trucking Company in Fort Worth Texas
If you need a reliable trucking company in Fort Worth Texas, reach out to Rigs! We have been servicing the metroplex for over 30 years. We are a family owned and operated business, dedicated to providing our customers with quality service at an affordable price. Our drivers are professionals with years of experience and care about getting your goods to you safely. If you would like to find out more, visit our website.

As one of the leaders in the commercial transportation industry , Rigs has been servicing the Fort Worth Texas area for 30 years! We offer a wide range of services such as one way, refrigerated and intermodal transportation. Locally owned and operated by passionate professionals who care about ensuring your goods arrive safely. We have the software to handle all your logistical needs.

Rigs Transport is a one-stop shop for all of your logistics and transportation needs! We specialize in intermodal transportation, refrigerated trucking, and non-refrigerated cargo. We have over 30 years of combined experience and the necessary skills to complete the task. As one of the top trucking companies, we can offer immediate value, as well as reliable and forward-thinking solutions for your business. We can help with long distance transport, pickup and delivery, or anything else.

We know that trucking companies in Fort Worth can't afford to have bottlenecks in their supply chains. So we make sure we address all your logistical needs and continue to manage your fleet so it runs smoothly.

Our advanced software and information technology can provide real-time information about all your shipments, so you can keep track of how your business is doing. This allows us to spot bottlenecks in the system and fix them before they become a problem again.

If you are looking to transport refrigerated goods, we can offer a quick and reliable solution for you! We know how important it is that your products arrive on time, and in the right condition. We have years of experience transporting perishable goods such as produce and food. We can guarantee your satisfaction. As one of the top trucking companies in Fort Worth, we strive to deliver all of our freight for our customers right on time.

We are a full-service commercial transportation company offering full truckload, less than truckload and intermodal services. We ensure that your freight is safely transported in one of our well-maintained trucks. We use the latest technology to track every step from beginning to finish. With 24/7 customer service you can be assured that we will take care of any issues you may have. We also offer warehousing and distribution services for those businesses that don't want to deal with logistics, meaning we can handle all of your transportation needs!

If you need at professionally operated trucking company in Fort Worth, that's in it to give you the best experience in the long haul, than go ahead and reach out today.
Timezone: CDT
Monday
08:00 AM - 06:00 PM
Tuesday
09:00 AM - 05:00 PM
Wednesday
09:00 AM - 05:00 PM
Thursday
09:00 AM - 05:00 PM
Friday
09:00 AM - 05:00 PM
Saturday
10:00 AM - 04:00 PM
Rigs Trucking Company in Fort Worth
4410 Montecito WayFort Worth Texas 76106United States