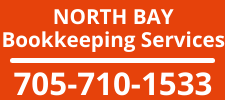 North Bay Bookkeeping Services
We are North Bay's most renowned provider of financial services outsourced Our company has been operating in the city's financial industry for over a decade The clients we serve are individuals corporate, individuals, and non-profit

We are aware of how difficult it is for companies to pay for an all-time financial controller Many small businesses don't have the resources required to succeed We provide third-party control solutions to these businesses so they can have the flexibility they need

We have created a system that sufficiently serves the needs of a wide range of customers We are the best in the city at what we do, and we could not be more proud of our work

We are the company to contact whether you need bookkeeping, accounting, or tax Our services to each of our clients is designed to meet their individual needs We listen to our customers' requirements and goals in order to achieve

We then seek ways to improve their efficiency As a customer we will help you in establishing the right path to reach your long-term goals And as your business grows and expands, we'll be there to assist it to grow and adapt

We can either offer you a complete package or the specific services you require Outsourced services offered by us


Bookkeeping Services
Income Tax Services
Tax Preparation Services.
Tax Accountant Services.
Accounting Services.
Payroll Services.
Timezone: EDT
Monday
09:00 AM - 05:00 PM
Tuesday
09:00 AM - 05:00 PM
Wednesday
09:00 AM - 05:00 PM
Thursday
09:00 AM - 05:00 PM
Friday
09:00 AM - 05:00 PM
SaturdayClosed
SundayClosed
North Bay Bookkeeping Services
North BayNorth Bay Ontario P1A 4H4Canada