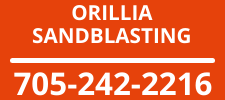 Orillia Sandblasting is committed to providing professional and reliable sandblasting services. We are a team that is going to ensure that the work we do for you is going to be able to last. Also, we will ensure that the work that we provide you with is g
Services – If your need Sandblasting services, you're going to want to turn to the most reputable professionals in sandblasting in Orillia Sandblasting is the team you can trust for this task

We are the professionals who have worked hard over the years to ensure we use only the best methods and strategies We are professionals who are dedicated to get

There is no other outcome you can find that is as reliable and reputable like the one we can provide to

We'll be able to handle commercial and industrial We will also be able to make sure that the outcomes will be in line with your needs You are not going to need to worry about trying to do this on your own

Instead you can rely on us to employ the most effective strategies and methods that are available We have mastered this work because all of our employees have been through the training and certification courses Not to mention, all of the workers here have plenty Call us today for a discussion about the following services we can offer

Sandblasting
Industrial Equipment
Flat Bed Trailers
Heavy Equipment
Chassis – Truck Bodies
Shipping Containers

We also provide mobile sandblasting. If we need to visit your location , our Sandblasting technician will be able to bring all the equipment to your site to prepare and complete the job

We stand by Our goal is to do it exactly the first time, for the price we quote

Contact us today at 705-242-2216.
Timezone: EDT
Monday
09:00 AM - 05:00 PM
Tuesday
09:00 AM - 05:00 PM
Wednesday
09:00 AM - 05:00 PM
Thursday
09:00 AM - 05:00 PM
Friday
09:00 AM - 05:00 PM
Saturday
09:00 AM - 05:00 PM
SundayClosed
OrilliaOrillia Ontario LOK 1L0Canada